So I'm making a sires and I want other users to join.
First a cat
I need main characters one from each group and photo
Name
Gender
Clan or Tribe(MountainClan, LandClan, OceanClan, BreezeClan. Tribe of the Pointy Rocks or Tribe of Rising Storm.)
Desperation
Personality
Rank
Example
Name: Rockpaw
Gender: Female
Clan: MountainClan
Desperation: pale grey she-cat with glowing green eyes and black stripes.
Personality: Kind, loalty, and brave
Apprentice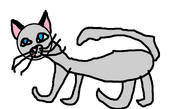 Ad blocker interference detected!
Wikia is a free-to-use site that makes money from advertising. We have a modified experience for viewers using ad blockers

Wikia is not accessible if you've made further modifications. Remove the custom ad blocker rule(s) and the page will load as expected.